Mid-Summer REFRESH
Posted by Sandee Payne on Wednesday, July 21, 2021 at 1:00 PM
By Sandee Payne / July 21, 2021
Comment
Warm nights followed by hot days are just a few of the signs that Central Texas is right in the middle of the lazy days of Summer... We throw open the doors and windows in the coolness of the morning to catch a breath of that breeze as it rushes through the screens and seems to turn our homes inside out, pushing out the stale air of the night and welcoming in the scents of the promising flora. Why leave this exhilarating task to Mother Nature when we can lend a helping hand and enlighten our homes' decor to reflect this natural phenomenon?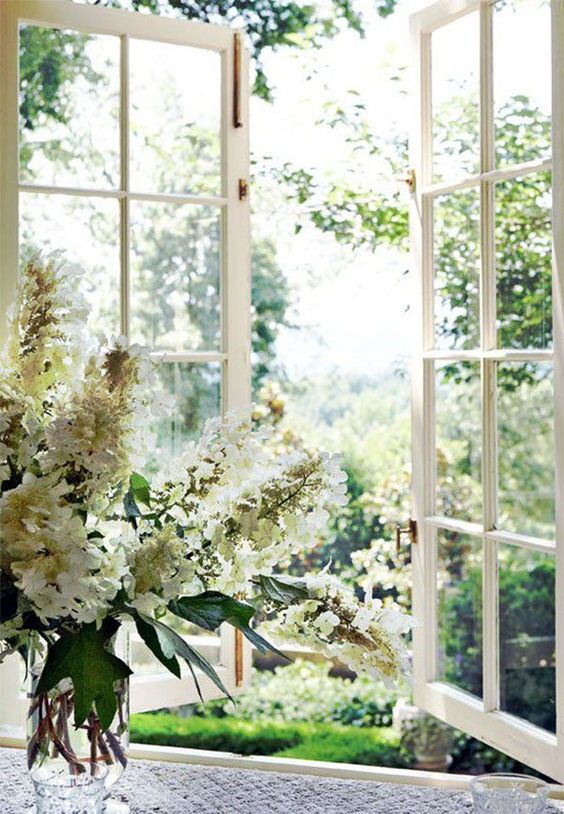 During this season, not only can you bring the colors of the flowering landscapes, the scents of the fragrant fruit trees and the sounds of the singing birds into your living room and interior surroundings, but also you can experiment with unleashing the comforts of our homes to add style to our outdoor patios, balconies and pool sides.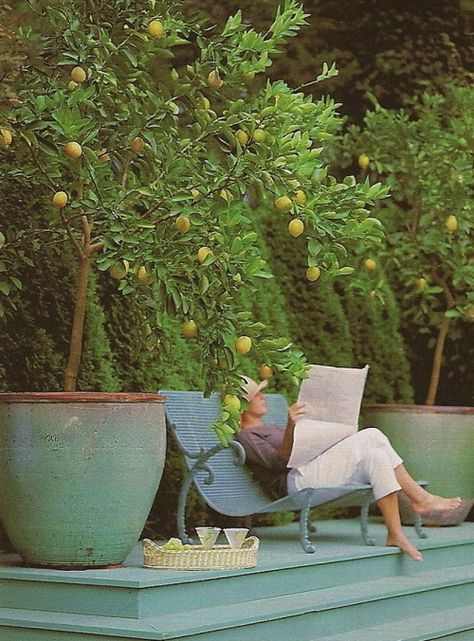 The outdoors can serve as a natural decorating Mecca if we just look in the right places. Our gardens are full of budding branches just beckoning to fill our vases. The bright citrus hues of oranges, lemons and limes add vibrancy to our empty fruit bowls that grace our tables. Tossing embroidered pillows accented with birds, butterflies and botanicals onto our sofas and beds reminds us of the gentleness of Mother Nature's touch. Refresh our favorite rooms by swapping colors to the cooler trends of tangerine and turquoise. Lighten our heavy draperies by changing them out with the softer fabrics of silks and sheers, and adding coordinating candles and accessories to finish off the summery style.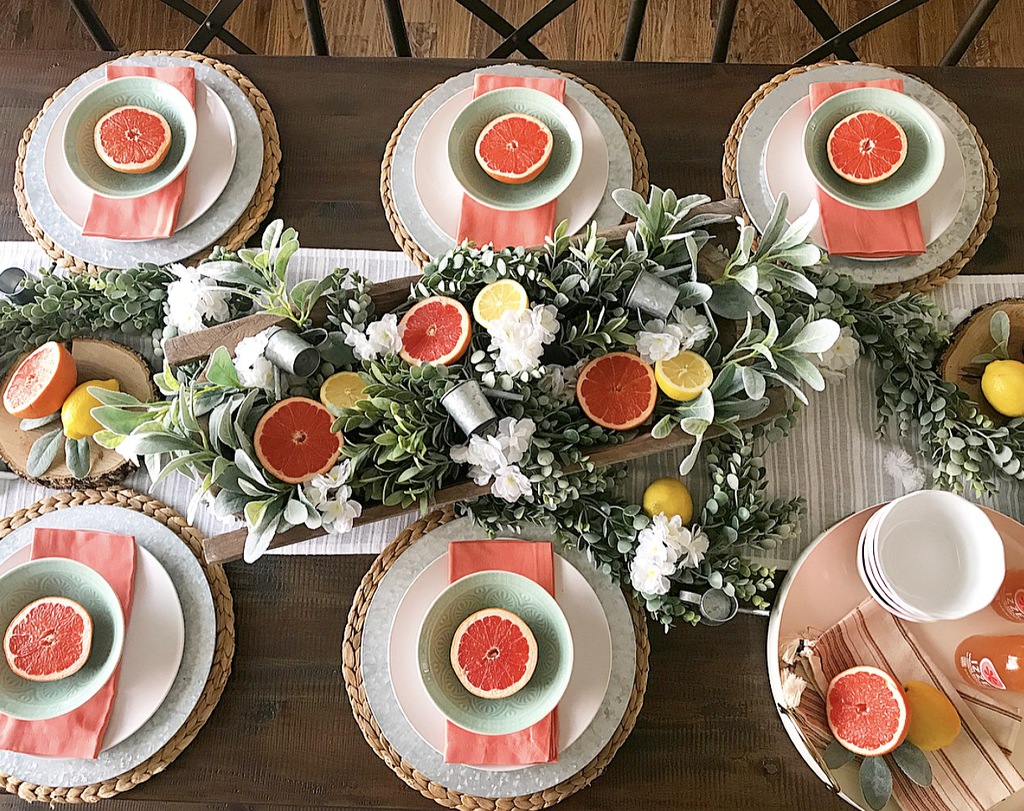 When the sun summons you to the outdoors, don't go out empty handed. Take along your favorite cushions and throw rugs to rest in the rays. Your favorite reading chair will do just fine on the patio on those perfect late summer days. Evening get-togethers will seem serene with perfect lighting brought outside to the deck and placed on accent tables.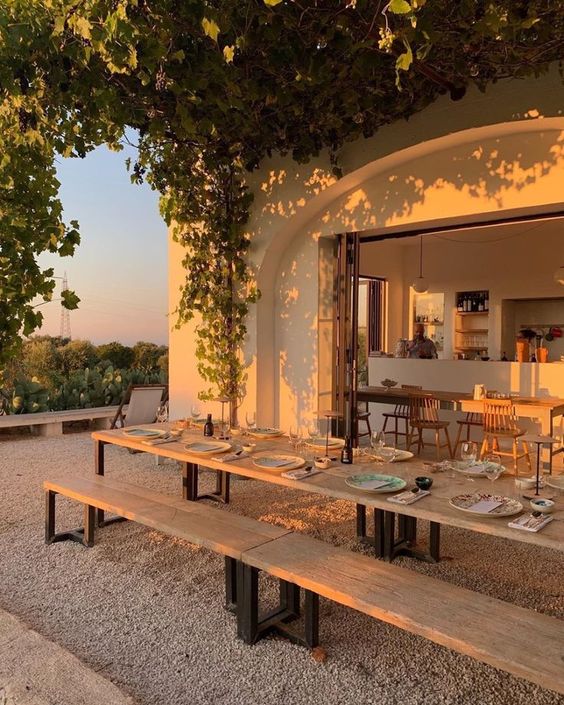 Line the edges of the gardens with votives and candles to cast a warm glow into the evening as an alternative to harsh overhead lighting. Hang mason jars with tea lights from tree branches spritizing the darkness with twinkling lights. A delicate chandelier embellished with taper candles and dangling beads can add charm and class to your covered terrace. (As the days of late summer turn into early fall over the next few months, these tips & tricks will make the transition feel seamless!)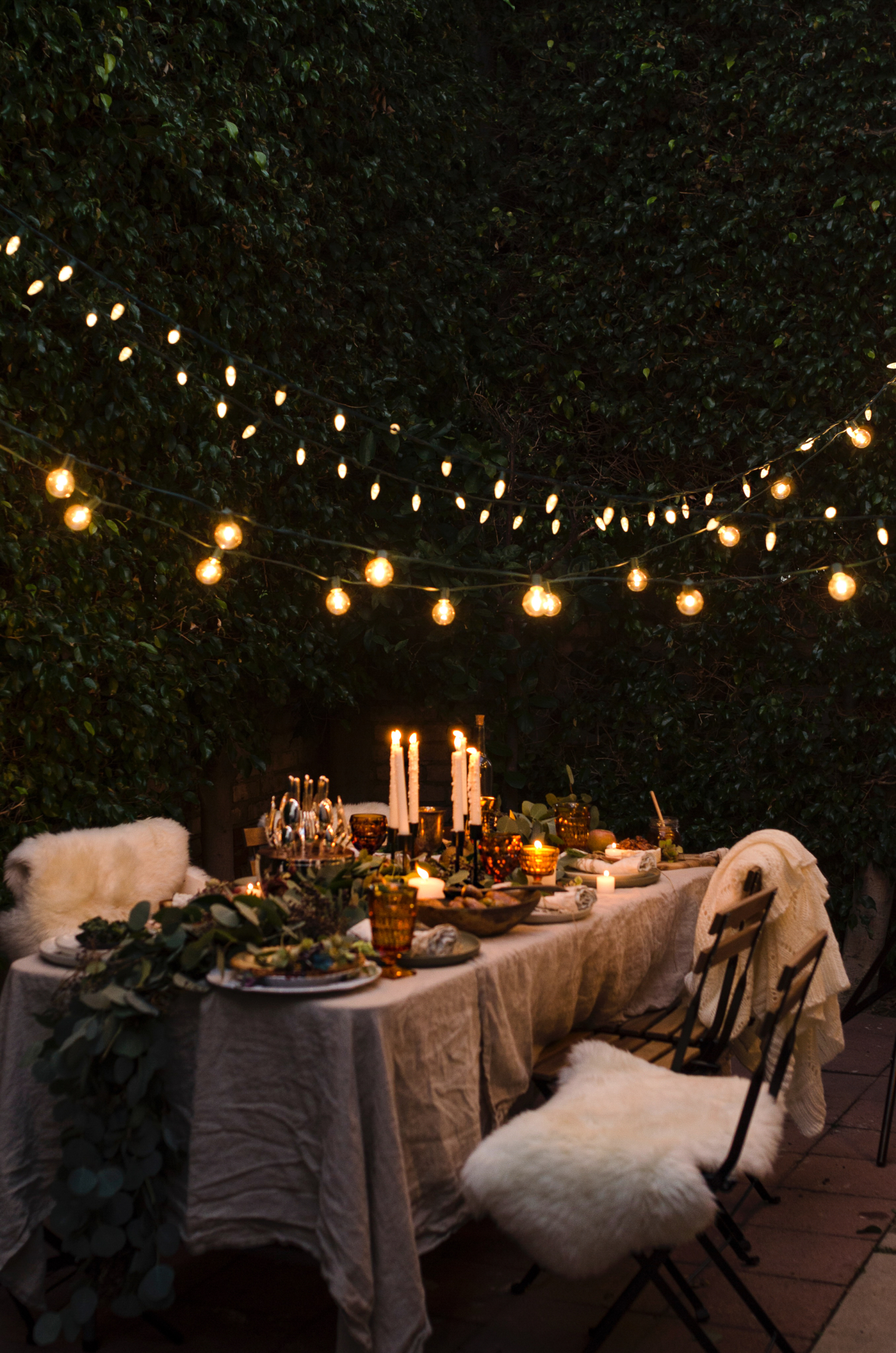 If you love the concept of outdoor living, but just don't have the indoor items to bring out, look to the abundance of outdoor furnishings and accessories available on the market today. Sectionals, sofas and chaises that are available in weather resistant wood finishes and fabrics designed to withstand nature's harshest elements. Bringing the look and feel of indoor upholstered pieces out in the open air without the fear of fading, drying and moisture can create a comfortable space in which you can enjoy with your family and friends.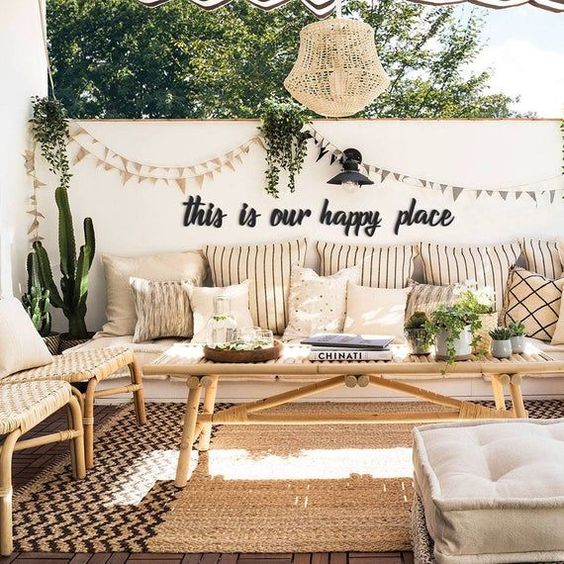 Area rugs made from recycled materials and polypropylene can be easily cleaned with a garden hose while they provide relief under your feet compared to concrete, brick or stone. In fantastic patterns and colors, there is certainly a style that can complement your decorating taste or your landscaping design.
Say "so-long" to old school bamboo sun shades and blinds that block your view and box you in. Outdoor draperies hanging gracefully around your patio can serve as shade from the sun and can add such a beautiful addition to an otherwise simple space. Outdoor fabric has come a very long way and is now available in the brightest and most colorful palette, your flowers will be jealous. Coordinate your cushions and accessories for a fresh and fun facade.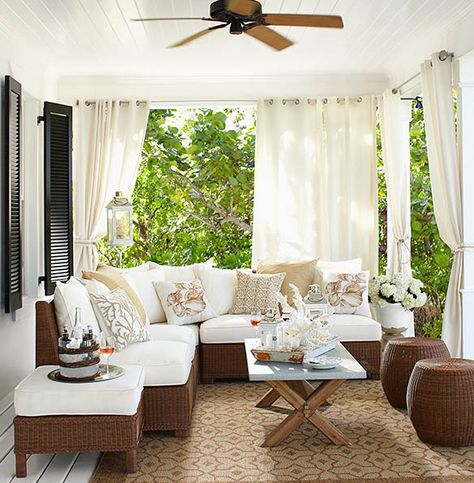 So... think of the seasons as just nature's way of stirring up the creativity in all of us and to keep the energy in our homes refreshed and renewed.