How To: BLACKSPLASH
Posted by Sandee Payne on Tuesday, November 9, 2021 at 10:12 PM
By Sandee Payne / November 9, 2021
Comment
OHHH… Have you ever been strolling through Lowe's (or somewhere similar) and find yourself swooning over tile selections like a kid in a candy store? I know I sure do. What about when you"re supposed to run in for something quick- but then before you know it you're an hour in and designed an entirely new house in your head.. WHOOPS! This happens to me more than I would like to admit- and you know the worst part? I am always drawn to the most expensive ones.. does this sound familiar?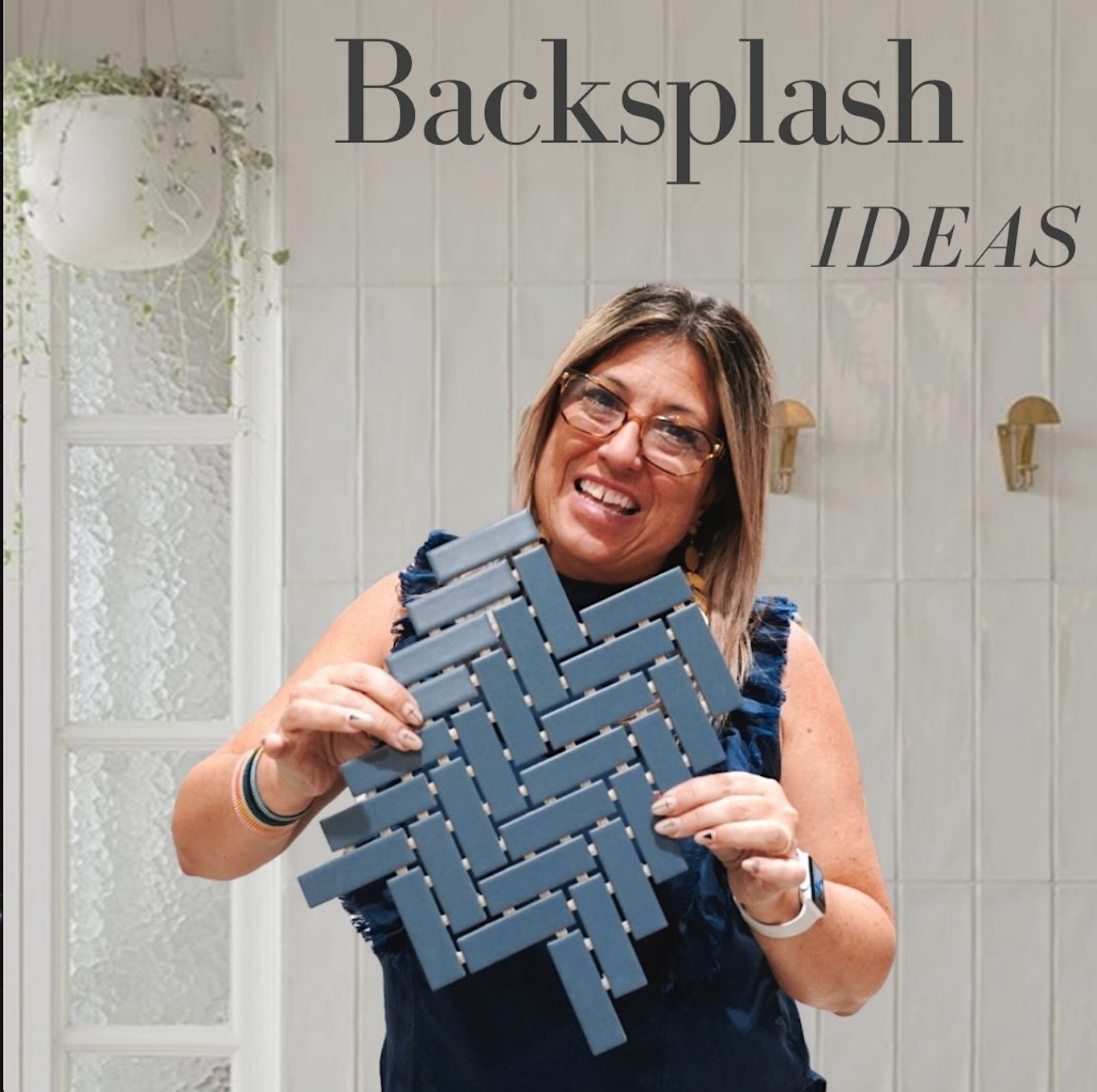 Well, lucky for y o u, great tile-style (I think I just created a new word LOL) can be achieved without having to buy the most expensive materials. There are SO many ways to incorporate that stunning, luxury tile in your designs without breaking the bank.

Here are my favorite tips to share.

• If you just L O V E that gorgeous tile, use it as an accent border or trim while keeping a coordinated tile as the main material. Sometimes, you just can't pass up on your favorites. One of my favorite ways to incorperate bold patterens, unique shapes, dark lines, or pops of gold is to use them as a an accent. Find this more 'fun' tiles and use them to surround a a plain, color coordinated (more afforadable) tile. A few of my favorite spots in the house to use this trick are: around your bathroom mirror, outlining your stove, or only using those special tiles right on the line between counter top & wall space.


• Change up the standard installation pattern or brick lay, to something more fun. Try a diagonal, stacked chevron or herringbone pattern. Even if it's just in an entryway or bathroom. If you follow me on Instagram, you know how much I adore this trick- so much so that my entire master bedroom floor is herringbone. I know this is all about backsplash, BUT switching up the pattern that your tile is layed is beautiful everywhere in your home. Using a unique shape, like hexagons, draws the eye directly to that spot- making it stand out. Picking a backsplash with a smaller pattern really brings a lively energy to the entire room... without being too risky. Swapping the direction of every tile, disrupting the lines, is an amazing way to make a more 'simple' tile POP. Herringbone or adding in diagonal lines is a simple and understated way to bring a classic and timeless pattern into your backsplash.



• Look at wholesale supply warehouses… you can often get that decorative tile at a fraction of the price and work it into a coordinating plain tile for visual interest. THIS IS A HIDDEN GEM, Y'ALL! If you find a tile that speaks to your soul but doesn't agree with your budget, jot down the name and take it to a wholesale supplier. If you've never heard of a 'wholesale supplier' you're totally missing out! According to investopedia.com, "Wholesalers are not manufacturers. Their business is distributing the end products. They purchase goods from manufacturers in bulk at a discount and sell to retailers. Wholesalers also provide cost savings to retailers when retailers buy in bulk from the wholesaler." Using this hack doesn't work every time, but t r u s t me, it's worth trying every time.


Make sure you are following me for more Tile-Style and Home design tips.